ADI Solution To Remote Orientation Sensing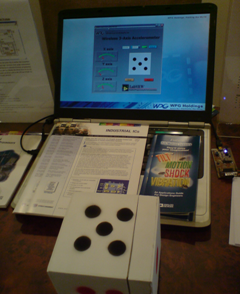 What can you do if you are given an accelerometer, wireless device and a microcontroller? This was a question that we asked ourselves when looking into the application of such devices. The result is a dice that tells which side is up.

This project is a modification from our existing tremor sensor that was featured in our earlier chapter. The solution makes use of 2 ADI Controller boards developed by WPG, one as master, the other slave, both added with an RF Transceiver ADF7025 from ADI.

The slave is also attached with an ADI accelerometer ADxL330(fig 2), while master unit attached with a USB daughter using TI solution TUSB3410(fig 3).

Figure 1. The X, Y and Z coordinates of the dice transmit to the master board



Figure 2. Block Diagram of the Slave unit



Figure 3. Block Diagram of Master unit



The system interface with a program developed using NI Labview which collect the data and convert it into information displaying the values of X,Y and Z axes, at the same time showing the surface facing up (fig 4). This program demonstrates the sensitivity and effectiveness of the Accelerometer for orientation detection.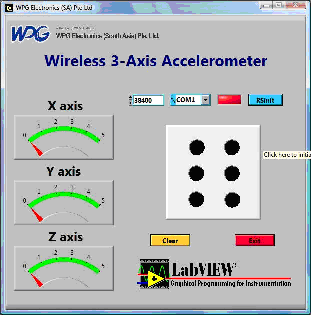 Figure 4. The GUI display on PC to show the coordinates and surface information of dice


The principle of operation for this system is simple (fig 5), the accelerometer on the slave detects and feedback the coordination of the dice and send it to the master unit, which interface with the PC. The Labview program will then interpret the data and calculate and display the result.




Figure 5. Data transmission from Slave to PC


Features:
Able to measure
 - Static acceleration of gravity in tilt-sensing application and
 - Dynamic acceleration resulting from motion, shock or vibration.
Long range wireless sensing; >100 meters.
RF transmission in ISM band of 905MHz.
Low power consumption; 300mA (active mode), 20mA (sleep mode).
Expandable interface for sensors and controls.
Suitable for cost-sensitive, low-power, motion- and tilt-sensing application.

General Specification:
ADXL330: - 3-Axis accelerometer with full range of ±3g from Analog Devices.
ADF7025: - Short range RF transceiver with up to 384kps data rate from Analog Devices.
ADUC847: - Micro-converter with integrated 10ch 24-bit Sigma-Delta ADC and single 10-bit DAC.
TUSB3410:- RS232 / IrDA Serial-to-USB Converter.