Intel Powers Next-Generation Security and Surveillance
As the demands on Digital Security Surveillance (DSS) systems become more complex, Intel® embedded platforms give equipment manufacturers and system integrators the opportunity to deliver increasingly sophisticated video surveillance solutions.
Performance.
The processing muscle of Intel® architecture enables higher numbers of video channels, more complex video encoding/decoding, greater intelligence, and remote manageability, with the scalability to handle implementations both large and small.


Scalability.
DSS providers may design a range of systems using different Intel® platforms while maintaining a common software code-base, thus simplifying software upgrades and shortening time to market.


Flexibility.
Intel® solutions offer video decoding/encoding flexibility by using a software approach. Various video formats such as MPEG4 and H.264 can be implemented on Intel platforms, allowing DSS providers to choose their preferred formats. Platforms can be easily upgraded when more advanced codec formats become available in the future.
These platforms form the basis for next-generation capabilities to gather, analyze, and store audio-visual surveillance data, taking advantage of an unparalleled hardware and software ecosystem, including members of the Intel® Embedded and Communications Alliance. DSS solutions based on Intel embedded platforms serve the full spectrum of surveillance requirements in facilities like airports, railway terminals, government and corporate buildings, utility infrastructures, educational campuses, financial institutions, and retail locations.  
Intel® embedded offers compelling Low-power DSS solution
As modern world moving towards saving energy consumption, Intel® embedded have came out the surveillance DVR based on the Intel low power platform.
This compelling solution capable to provide DSS solution with low power, affordable, flexible performance for mid-range Surveillance Digital Video Recorder solution, using the much popular Intel Atom, N270 based platform solution.
The Intel Atom processor N270 is based on Intel's revolutionary Intel Atom micro architecture, which offers low-power and affordable solutions for mid-range Digital Video Recorders (DVRs) of 2.5W. Atom N270 contains the processing power to efficiently support software-based encoders, providing customers the flexibility to add features and upgrade their solutions easily.
Intel Atom N270 DVR solution building blocks
A DVR designed with the Intel Atom processor N270 can connect up to four channels of full D1 resolution analog cameras, through a PCI Express or PCI-based video capture card. The graphics, memory and I/O interfaces are provided through the Mobile Intel 945GSE Express chipset and the Intel 82801GBM I/O Controller Hub (ICH7M).
With a TDP of 6W, the Mobile Intel 945GSE Express chipset is ideal for the surveillance DVR application, which is required to operate 24 hours a day.. Furthermore, the processor is able to offload graphics processing to the integrated graphics core in the chipset.
This DVR is designed to be fully connected either through the 10/100/1000 LAN controller or a separate PCI Express mini card WLAN module. This provides connectivity to the central monitoring system, server, or backend storage. For a standalone device connectivity remains an important feature, to trigger notifications and alarms.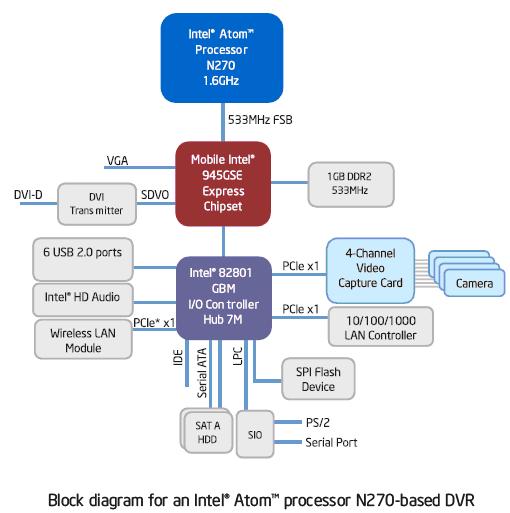 Software Advantage
When implementing software-based encoders and DVR applications on the Intel Atom processor N270, the developer can maintain a common software code based across all Intel processor-based solutions, thus shortening software development cycles as the product evolves from one generation of processor to the next. To optimize software performance, developer can take advantage of the Intel SSE2, Intel SSE3 and SSSE3 support provided by the Intel Atom processor N270.
With an optimized solution, an Intel Atom processor N270-based DVR can achieve up to four channels of full D1 resolution (720x576) real-time (100fps) viewing, while recording at 48fps with MPEG4 compression. Using H.264 compression, the system can support four channels of full D1 resolution real-time viewing and recording at 20fps.
To enable video analytics, the video resolution may easily be scaled down to 320x240, or the viewing frame rate reduced. With the appropriate video capture card, this system is also capable of supporting 16 channels at 320x240 resolutions.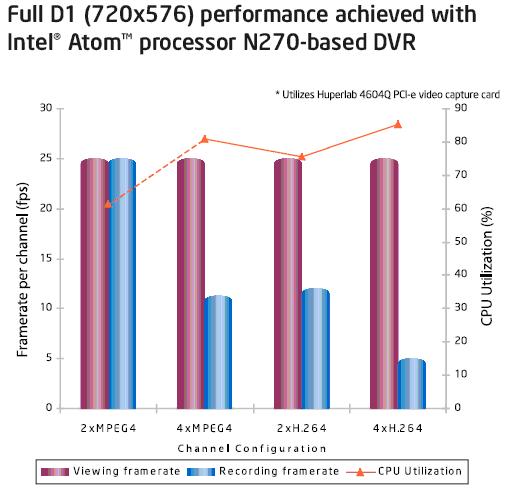 Conclusion
Intel® embedded capable to provide various platforms for ever increasing demand Digital Security Surveillance, sophisticated video surveillance application with Performance, Scalability and Flexibility. As modern generation world moving toward saving energy consumption, Intel® embedded have came out the surveillance DVR based on the Intel Atom processor N270. This compelling solution deliver performance, scalability and flexibility in a low-power and affordable package. It not only allows high-resolution video imaging and advanced compression to reduce